Dermocosmetics
15 Years of Service in Experimental Dermatology
Dermatological Research Institute at University Witten/Herdecke Celebrates Anniversary

On 1 April 1990 professor Dr. Hagen Tronnier founded the Institut für experimentelle Dermatologie (Institute for Experimental Dermatology) at University Witten/Herdecke. The institute's activities focus on the development and application of dermaphysiological methods for testing of the impact exerted by drugs, cosmetics, household cleansers, textiles and other materials on human skin. In April last year the institute celebrated its 15-year anniversary in the scope of a scientific colloquium, the "DermaDays", taking place for the sixth time already. The methods applied were demonstrated practically subsequent to the colloquium.
---
The institute performs both own and analyses commissioned by companies. The contractees originate mainly from the EC-area, however also from countries outside of Europe as Israel and USA.
As result of own scientific work and in cooperation with industrial partners, besides other activities, appliances for the in-vitro light protection assessment, for a differentiated assessment of the skin surface structure, as well as for the measurement of frictional resistance, for example of textiles on skin have been developed.

Dermatologist professor Dr. Hagen Tronnier is founder and head of the Institut für experimentelle Dermatologie (Institute for Experimental Dermatology) at University Witten/Herdecke.
The collaboration with University Witten/Herdecke comprises the proposition of a course, assistance in diverse universitary committees as well as support in theses and postdoctoral qualifications - six of which respectively two could be terminated since foundation of the institute.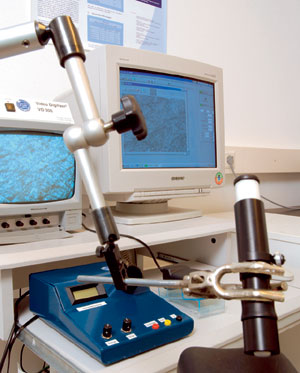 "Primarily, the institute is not to grow quantitatively, but our target is to permanently increase the quality of our scientific work in cooperation with university and industrial partners", professor Dr. Hagen Tronnier, founder and head of the Institute emphasizes. He is supported by ten colleagues, among which GD-member of the board professor Dr. Ulrike Heinrich.
In a lecture in the scope of "DermaDays" professor Heinrich presented several methods applied at the Institute which were also explained in practical demonstration subsequent to the lecture section of the symposium. These also included a method for digital hair analysis with the aid of the so-called "TrichoScan- Methode".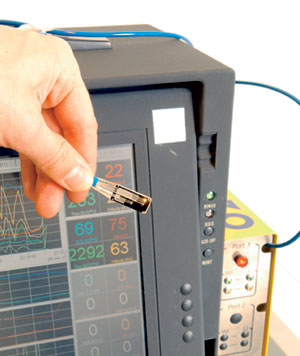 This method is about an image-analytical modification of the classical trichogram by means of which the number of hair as well as the anagen-/telogen-rate is calculated based on special software. By sequential images for example statements on the efficiency of agents for hair growth can be attained. jk

top